Safety. Security. Longevity.
Senior Home Safety Specialist®
Our goal is to provide a holistic curriculum and a fresh look at many issues affecting seniors endeavoring to age safe at home.
Approximately one-third of adults age 65 years or older fall in their home each year, resulting in injury, long-term disability and premature loss of independence. By the year 2030, the Centers for Disease Control and Prevention estimates the cost related to these kinds of injuries to be nearly $100 Billion annually. In an effort to help reduce and prevent falls and their associated costs Age Safe America now offers the
Senior Home Safety Specialist

®
certification.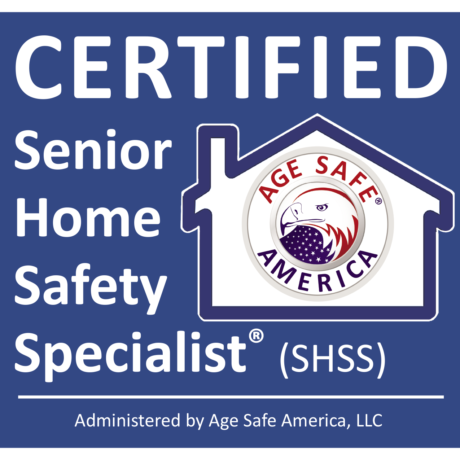 The 
Senior Home Safety Specialist

®
course empowers professionals with actionable ways to better help educate clients, older adults and their family members on the serious issues of home safety, fall prevention, financial exploitation and personal safety. This comprehensive 5-hour self-paced online course offers the only certificate of its kind to individuals within the senior services industry. This important training consists of a 17-module self-study educational program with a quiz after each section that participants must pass in order to continue. Upon successfully completing the entire course, you will receive an attractive Certificate along with a digital copy of the
Senior Home Safety Specialist

®
emblem for use on your social sites and marketing materials.
Safety. Security. Longevity.
Safety. Security. Longevity.
Since 2015 a national membership, training, advocacy and services organization.
What is Covered in This Online Course
– Fall Prevention Myths and Solutions
– Fire Safety Precautions and Solutions
– Aging-in Place Home Modifications
– Mobility and Accessibility Issues
– Home and Senior Safety Technologies
– Considerations for Alzheimer's/Dementia
– Crime Prevention and Personal Safety
– Senior Exploitation, Identity Theft and Scams
– Communication with Older Adults and Family
– Performing a Complete Home Safety Assessment
Much of the coursework is universal and has been taken by professionals throughout North America, Europe, Asia and the Middle East.

Age Safe America, LLC is an AOTA Approved Provider of professional development. Course approval ID# 5285. This distance learning-independent course is offered at 0.5 CEUs, introductory level, foundational knowledge. The assignment of AOTA CEUs does not imply endorsement of specific course content, products, or clinical procedures by AOTA or indicate AOTA approval of a certification or other professional recognition.
– Gain perspective on the incidence and prevalence of falls, and the physical and psychological impact of falling among older adults.
– Learn how to implement fire safety precautions and modification solutions in the home.
– Learn how to address impairments resulting from normal aging vs. acute injury with appropriate mobility devices.
– Learn about the different technologies available on the market that address home safety for seniors.
– Learn how to apply communication techniques that are effective when working with older adults and their families.
– Learn a variety of environmental interventions to mitigate fall risk.
– Recognize how modifications in the home can assist older adults with an aging‐in‐ place goal.
– Identify common criminal activities that affect the safety of older adults.
– Identify senior exploitation, identity thefts and scams that are widespread among older adults.
– Become familiar with fall risk and home safety assessment tools and their application to older adults in their home.
99% of registrants stated they would recommend this course to other professionals.
There are no formal educational prerequisites for this course. The Senior Home Safety Specialist® course is offered to individuals currently involved in the care, comfort, safety and security of older adults including:
•Occupational Therapists and Occupational Therapy Assistants
•Physical Therapists and Physical Therapy Assistants
•Home Care Agencies, Home Health Care Agencies
•Wellness Program, Balance/Exercise Professionals
•Nurses: RN, LPN, NP, APN, PA, CNA's
•Client Care Coordinators
•Geriatric Care Managers
•Home Health Providers
•Personal Caregivers
•Discharge Planners
•Case Managers
•Social Workers
•Builders/Remodelers
•Home Inspectors
•Handyman Services
•Tub/Bath Remodelers
•HME/DME Businesses
•Home Security Providers
•Senior Placement Services
•Senior Real Estate Specialist
•Aging-in-Place/CAPS Professionals
Trained Staff for:
•Senior Living, Nursing Home
•Adult Day Care, Senior Center
•Rehabilitation Facility
•EMS Community Relations
•Workers Comp Administrators
The Senior Home Safety Specialist™ designation is a valuable differentiator, proven revenue generator, and a doorway to the $7 Trillion Longevity Economy.
American Occupational Therapy Association (AOTA) .5 CEUs/5 contact hours. Your AOTA branded certificate will state this along with our approval number (APP00000170)
The American Occupational Therapy Association advances occupational therapy practice, education, and research through standard setting and advocacy.
National Association of Home Builders (NAHB/CAPS) 5 CEU's (self-reporting)
The National Association of Home Builders offers courses and professional designations as well as educational seminars at the International Builder's Show.
Society of Certified Senior Advisors (SCSA) 5 CEU's (self-reporting)
The Society of Certified Senior Advisors educates and supports specialists in aging who are dedicated to improving the lives of older adults.
National Association of the Remodeling Industry (NARI) 5 CEU's (self-reporting)
NARI has nine certification programs that cover everything from general remodeling to specialty remodeling, as well as green and universal design certifications.
Continuing Education Institute of Illinois (CEII) 5 Contact/Clock Hours (REGISTER)
CEII in collaboration with the University of Illinois, College of Medicine, Department of Family Medicine provides education and training services to professionals.
RN, LPN (all 50 states) PT (most states) OT (many states), SLP, SW and other credentials… please inquire
American Society of Home Inspectors (ASHI)
The Senior Home Safety Specialist® Course is approved for 5 of ASHI® Continuing Education Credits. ASHI promotes standards for property inspections and provides educational programs needed to achieve excellence. 
International Association of Certified Home Inspectors (InterNACHI) 5 CEU's (self reporting)
InterNACHI® members get everything from world-class home inspection education & pre-licensing support to marketing, branding services, discounts and more!
National Academy of Certified Care Managers (NACCM)
This program for has been pre-approved by the National Academy of Certified Care Managers (NACCM) for 5.5 continuing education contact hours and your certificate will state this along with the approval number.
American Kinesiotherapy Association (AKTA) 5 contact/clock hours (self-reporting)
The AKTA mission is to to support the rehabilitative services of Registered Kinesiotherapists while promoting the health and wellness of all populations including Veterans and individuals with functional limitations.
Due to the constantly changing nature of this growing industry, the importance of consistently providing the full comprehensive home safety assessment, and to encourage ongoing continuing education, graduates are required to take a short refresher course every year to maintain the SHSS certification. The cost of re-certification and the refresher course is $97.00
To register for your SHSS Re-Certification Go Here: As this is a different portal from the original course, please sign up as a new user. Look for the verification email, (it may be in your spam), then you can purchase the course.
What People Are Saying About the Course
"The Senior Home Safety Specialist® is a tremendously comprehensive training on the identification of and solutions to the dangerous hazards in the home that put our older adults health at risk. I would recommend all professionals working with older adults in the home make this training a part of their overall certifications, such as CPR and AED certifications, because it will save lives. As a physician, I also would encourage family members with older loved ones, either in their homes or wanting to age in place, have a certified Senior Home Safety Specialist evaluate their home's safety to prevent their loved ones from having to suffer an avoidable, costly and possibly life-threatening injury in the home." – Oscar E. Rodriguez, MD, MBA, Co-founder/Chief Medical Officer Reassure Analytics, Inc.
"I learned about this course by connecting with other OTs, PTs, and other AIP specialized professionals who were also certified as Senior Home Safety Specialist™. Thank you so very much for providing such an in-depth overview on home safety and a genuine approach towards keeping our older loved ones and community safer! I am an OT looking to transition from nursing home settings to home health, and I feel absolutely prepared to dive into this setting having completed this certification course! Thank you Age Safe America!" – Courtney Banks, OTR/L, CAPS, SHSS
"An amazing collection of information, well-presented. Good reminders of things we knew or should have known and a whole lot more new info – especially the Alzheimer's segments. Great job! I like the way the segments are different lengths and formats also. Obviously a lot of time and effort went into the creation and production of this course". – Steve Hoffacker, CAPS, CEAC, SHSS NAHB Master Instructor | CAPS Instructor of the Year 2015 & 2020
"The Age Safe® course methodology and learning instruments for the purpose of Senior Home Safety Specialist provides an active part of being the expert to solve current home safety issues. Goals and objectives are clearly defined. A combination of qualitative and quantitative methods offers effective ways to assess goals and outcomes for the family. Participants will demonstrate the ability and skill to discuss, analyze, and show knowledge in this very fragmented field." – Robert Gurinowitsch, C.E.A.C. COO Home Access Professionals
"As a regulated health professional (RN) for over 3 decades, I have taken many courses and obtained numerous certifications in my quest to serve and protect the health of Canadians. Without a doubt, the Age Safe Canada/Age Safe America Senior Home Safety Specialist (SHSS) certification course is the most in-depth, practical and meaningful certification I have taken to prepare me to be proactive in keeping seniors and older adults safe in their homes. Quality of life and safety has long been my hope for all of us as we age, and with the SHSS designation, I now have the nationally recognized qualification to do this. Lastly, I absolutely love your campaign phrase "Grab bars are the new seat belts". Well done Age Safe America/Age Safe Canada on making this crucial certification course available to those of us working to protect our aging population and dedicated to providing the very best opportunity for aging in place and maintaining quality of life." – Annj Ridsdale-Weddell, BScN, GNC (c), MBA, RN /CEO, RNCare, Inc.
"The information in this course is excellent. I have been working with the senior population as an Occupational Therapy Assistant for 6 years. I've been on a lot of home evaluations and I must say that the material presented in this course is highly relevant and accurate, and I learned a great deal of new information regarding home safety modifications for seniors. I highly recommend this course". – Jay Chapman, OT
"Thank you for a wonderful perspective on educating me on aging in place safely. I enjoyed the format and found the information interesting and by and large it made sense. I am looking forward to using my new skills soon!" – Sydney Baer, AIP Services
"Excellent course content. This is the first time that I have been exposed to this information and it was presented in an easy to understand manner." – Jeff Silva, DME Specialist
"As an experienced OT, I was extremely pleased to find that by completing the detailed Age Safe America Senior Home Safety Specialist course, it provided new learning which can be incorporated into my knowledge base to promote safety and independence for the older adult in their home environment. The course material was very thorough and provided education on items and devices I wasn't even aware of. Thank you ASA! I am excited to incorporate all this knowledge into my future business!" – Lena Lamb, OTR/L
"I completed this course at the same time I was trained for the CAPS designation. This course dovetailed well with the CAPS courses I took because it extended the material to safety in many meaningful ways. Adding another layer of effective ways to help my clients be safe as they age in place at home." – Laura Miller, CSA, CAPS, Life Transition Specialist
"The Senior Home Safety Specialist course is extremely well organized and informative. The instructors are knowledgeable and provide clear examples for the student to achieve success. There was not one glitch with the software which is amazing considering the amount of audio and video files attached to the training course. The idea of the point system and badges is brilliant because it provides the user with visual goals and a sense of accomplishment. Well Done!" – Christopher MacLellan, M.A., "The Bowtie Guy" Caregiver Advocate, Founder of the Whole Care Network
"Age Safe America has created a comprehensive course with a perfect fit of content, information, and pacing. The course was current and included new and updated information as well as served as a refresher, both with added value. The variety of topics were above my expectations. Although the course is 6 hours, it is formatted just perfectly. As an Occupational Therapist and Certified Aging In Place Specialist I know this course knowledge will be used in my daily work. For anyone working with seniors, their families, caregivers and the community this course is a MUST. I continue to be impressed with Age Safe as they lead the cause for Senior Safety and Advocacy." – Raphaele Wagner, MS, OTR/L, CAPS, CHC
"Being in health care for over 18 years as a Home Care franchise owner, Publisher of two Seniors resource magazines and Vice President of the State of Illinois Continuity of Care Association, I thought I knew it all…well, I didn't. Excellent program, timely information and great presentation. Will recommend Highly to my colleagues!" – Michael Quirk, Publisher Seniors BlueBook, Chicago, IL.
"The amount of information included in the Senior Home Safety Specialist course is truly impressive. Each module helps to reinforce the fundamental aspects of improving home safety for Seniors as well as providing significant new information on everything from new technologies to understanding the challenges preparing a home for someone with progressing dementia. The comprehensive checklist helps to ensure that no potential hazard is overlooked while conducting a home safety assessment, not only for Seniors, but for any home. Resources for furthering your research and training are also included in many of the modules. The team at Age Safe clearly have a passion for leading the development of Senior Safety Advocates that will be in demand, as many Seniors continue to elect to stay in their homes as long as feasible and safe." – Bruce Wilson, Founder Senior SafeGuard
"This course was very thorough with minimal redundancy. Having been a COTA for 30+ years, there were some things I hadn't even thought of or was aware of. Thank You Age Safe for increasing my knowledge and awareness of safety options!" –Kathleen Hulme, COTA
"The course was very informative – what you think may be common sense, but there is much more to becoming a Home Safety Specialist. I am elated I took this course. I feel I will be doing more justice to my elderly community and to myself. Thank you Steven for our chat! I cannot wait to get started in helping seniors live SAFE! Excellent!" – Trish Wilcher, Time on a Dime Errand Service
"What a wonderful course and group training event for our staff and with so many beneficial take-a-ways! We especially liked Communicating with Older Adults and Family Members and Fire Safety. This will add to our ability to educate clients and their family members on the serious issues of fall prevention, financial scams and personal safety. The course content definitely met our expectations, and I would recommend it to other professionals in this field." – Anna Lattuca, Evergreen Senior Living
"The Senior Home Safety Specialist course was super beneficial for my role in home health care and I found it very informative and thorough! The course covered a lot of topics that come up frequently during my in-home assessment including Alzheimer's and Dementia communication, home safety ideas, fire safety, scams and fraud, safety around the house including the info on grab bars, stair safety, lighting, etc. Very often I have clients ask me questions about how they should better set up their homes to make sure they are safe so this was really helpful!" –Katelyn Tselios, Client Care Coordinator for Visiting Angels
"This Senior Home Safety Specialist course is a comprehensive online course that is supported with information to assist professionals as they work with consumers to make safety modifications to their homes. I would recommend this course to Occupational Therapists, Builders, Remodelers, Home Inspectors, and anyone who advises on home safety. Safety is a prime consideration in a home, regardless of the ages of the occupants. The course has ample photos to support the content that show examples of safe conditions and products that can enhance safety. The modules are organized into topics making it easy to take a break while taking the online course and return to finish the next modules at a convenient time." – Rosemarie Rossetti, Ph.D., Author of the Universal Design Toolkit
"The Senior Home Safety Specialist course was everything I have come to expect from a company that is in the forefront of senior advocacy like Age Safe America. As a new senior home safety advisor, the information contained in the course has armed me with a solid grasp of what I need to effectively aid my clients with fall prevention and independent living. Fritzi Gros-Daillon is extremely knowledgeable. There were points that she brought out that I never even considered. The information on dementia and Alzheimer's needs is outstanding. Great job Age Safe." – Rhonda Smith, SafeHome Senior Solutions
"Excellent information that filled in some gaps for me and my knowledge base. I especially appreciated the emphasis put on the fire safety and senior scams/identity theft. Would recommend to others without hesitation!" – Claire Mayfield, OT, CAPS Owner TrueNorth Home Safety
"As an Occupational Therapist, and well versed in home safety, I found this course to be very relevant, up to date and well organized. I appreciated the statistics and references by the national aging organizations. I would recommend this Senior Home Safety Specialist course to anyone in the senior industry who wants to help our seniors age safely at home". – Alan Prince, OTR/L, CAPS Owner of Rebuild for Life
Great course! Well organized and very informative. I've been carrying out home assessments almost everyday for 8 years and still learned a lot from this course. I believe comprehensive home safety assessments and home modifications are mandatory for anyone planning to age in place safely and comfortably! – Marcelo Carmen, Jr., Occupational Therapist, Community Based Rehabilitation
"As a senior center professional and administrator of our Minor Home Repair programs the additional information will help me do my job better. I see our program offering several more classes on home safety based on what I learned. Thank you!" – Karen S Adcock, SDC Director of Senior Services, City of Auburn Hills, MI
"The course content and statistical information provided throughout the course are very current and will enhance any individual or organization providing services and products to the senior demographic. An excellent approach to identifying the greater picture of challenges facing North America. The course modules provide educational content that will help train professionals, caregivers and service providers seeking knowledge to educate themselves and/or their organizations to better support our aging population. The course highlights a path forward for those who will make a difference in the Aging in Place markets. Highly recommend this course for anyone who is making in-home safety recommendations or providing home alteration and modifications for our seniors". – Peter Hache, President Renos4Seniors Ottawa, ON Canada
"Presenter and materials were excellent. She is very well spoken, respectful, patient and most knowledgeable. As a volunteer with the Saluda Living In Place (SLIP) program, I now feel more confident to serve as best I am able to help ALL persons, 'of age' or younger, to be safe and live long, healthy lives, in the place of their choice". – Frank McNutt, Non-Profit Volunteer
"I found the information regarding appropriate electrical outlets to be helpful. I do like the inclusion of helpful solutions, especially technology related solutions, to offer safety modifications to our clients – more of that type of information would always be appreciated". Yes, I would recommend this course to other professionals. – Dr. Linda Frasier, Associate Professor of Occupational Therapy at Touro University Nevada
"I was blown away by the extent of the content in this course! I am a Registered Nurse that has incorporated my nursing knowledge into senior estate downsizing and hoarding property cleanouts, often dealing with overlapping medical issues of my clients. My approach of holistic healing to improve quality of life through decluttering, home safety and education of my clients was greatly enhanced by the thoroughness of this course! I cannot wait to pass along this information to my clients and their families". – Shelly Galland, RN and Home Organization Consultant
"Excellent course. It seems to be very comprehensive in highlighting potential dangers in the home. I am looking forward to starting to practice this in the field and see for myself, hands on, the specific relevance of these important points. I live in Israel, so it will be important for me to see how this relates to the style, culture, and general home standards in this country. Currently I am a handyman installing grab bars on a volunteer basis for a local charity organization. I have found I enjoy working with elderly people – it gives a good feeling of satisfaction. Thank you". – Yitzchak Friedman, Former Hi-Tech Engineer building a Home Safety business.
"I found the information to be very useful. It was presented in a way that was straight forward and easy to follow along. Each section was first defined as to the topic/area being covered and then presented step by step with a basic explanation of each key point. The presenters voice was enjoyable to listen too. Her pace was perfect, although I did stop many times to take useful notes." – Relissa Stute, Senior Safety Advisor
"The course is interesting and thought provoking, better than I expected. Yes, I would recommend this course to other professionals." – Elodio Medina, Housing Rehab Specialist
"We owned and operated a 100 bed assisted living facility in Arizona, most of our clients came to us due to a fall, and usually heartbroken that they had to leave their homes. Most of them believed that they would one day return home, there were only a few. We feel so excited to help our community to stay home safely where they want to be. Such a wonderful course, and it was easy to understand, and very comprehensive. I wish I had found Age Safe America years ago". – Caroline Wilford, It's So Good to be Home, Inc.
"My past career was as an Occupational Therapy Assistant and I helped with Home Assessments. This one is so much more in-depth! Very informative and I look forward to utilizing this training." – Marcie Durian, Senior Resource Specialist
"A lot of excellent information and resources to add to our knowledge base, which will greatly benefit our customers and clients. I would recommend this course to other professionals serving seniors."- Jackie Mayo, President & CEO HomeSource
"WOW…more extensive than I imagined. A lot of content. Heightened my awareness on several areas really not considered prior to taking the course. Looking forward to implementing strategies and ideas". – Irene Carpenter, RN
"As a safety professional with over 30 years of experience, I was really wondering how much the program would be able to offer. All I can say is that you can definitely teach an old dog some new tricks. There was a great deal learned. As I start this business, I am confident that the information learned, notes taken and materials downloaded will go a long way to the success of the company. Thank you." – Ted Muller, Senior Safety Solutions, LLC
"The knowledge I gained is priceless. I look forward to working with Age Safe America to bring our life saving services to my community. I'm thrilled to get started." – Michael Lattimore, Healthcare Consultant, NEMT Business owner
"What a wonderful program and training you offer. I am excited to get going trying to make a difference in the lives of our elderly demographic. Thank you for the opportunity to learn and teach others how to stay safe. Sincerely" – Kristi Murphy, Community College Teacher
"This was a very thorough course and I am excited to be able to share the information that was obtained! It can make a huge difference for many families! I would recommend this course to other professionals." – Kimberly McKinney, OT/PT, owner Aging at Home
"Easy format, very informative with logical explanations, transferable suggestions to complete Aging in Place Safety in the Home. Highly recommend for everyone." – Rick Fangeat, CAPS, COO The Walkin Tub Company Canada
"The course made me very mindful of recommendations for my own parents." – Lisa Hernandez, Senior Executive Manager
"Great presentation and addressment of the home areas to access. Key points are very well articulated." – Anita Schinnerl, Consultant
"The course was very through with many tips that will make be a better professional in helping seniors. 5 Stars!" – Brad Martin, Rest Assured, LLC
"Overall, the course was well rounded and complete covering a large amount of issues that older adults are facing in their homes." – James Griffin, Home improvement Services Program Manager for Rebuilding Together Sacramento
"I enjoyed this training and learned a lot of information that I would not have thought about otherwise. I hope and pray that I can continue to learn and become a passionate professional that can help make a real difference in senior home safety. Thank you for this service." – Stephen Hoover, Advisor
"The Senior Home Safety Specialist course provides a well thought out approach to the challenges of seniors attempting to age in place. As an occupational therapist with experience in the home health setting, I can say with confidence that many of my clients would have been safer in their homes and would have avoided hospitalization or early nursing home admissions if someone had come along to evaluate their homes and help them make the modifications that are highlighted in this program. I highly recommend this program to anyone who is looking to work with seniors and help them to safely remain in their homes as they age!" – Greg Johnston, Occupational Therapist/Home Safety Entrepreneur
"The Senior Home Safety Specialist provides valuable information that is useful and practical to implement. I would recommend this course to other professionals". – Sarah Ford, Physical Therapist/Athletic Trainer
"I am overall pleased with the course content and I am sure the information will provide my clients and their families with excellent recommendations in home safety". – Gayle Workman, Physical Therapist Assistant
"The key messages in this course were loud and clear, and up to date. The Home Safety Assessment document is a helpful and comprehensive resource. The resource links provided within the course were good". – Ellen Pellett, OT
"The SHSS course was well thought out and excellently done. A lot of information but easy to follow and understand. I would recommend this course to anyone who cares for our elders. Excellent Course." – Renwick Victorino, Former Deputy Fire Chief / Senior Home Safety Advisor
"Thank you for offering this course. I learned more than I ever would on my own. The safety of people with Alzheimer was especially important to learn about, so I'm even more glad I took this course!" – Daria Johnson, Insurance and Home Safety Inspector
"I found the content extremely valuable and relevant." – Kindra French, Owner of 101 Mobility of San Diego
"As a real estate agent with a SRES accreditation, this course provided me with additional, valuable information / resources to support my clients. These two courses are totally complementary." – Jini Kotar, Realtor/SRES
"I found this to be course to be very comprehensive. The sample home walk through was very helpful. The presenter's excellent voice modulation contributed to easy listening and comprehension of the material. I highly recommend this course." – Susan C. Dunn, MSN, RN-BC, CCM, CAPS, SHSS
"Great Job! Enlightening considering we had our mother law move in with us and thought we had it covered…oops. Thanks and looking forward to continuing my education and our relationship." – Michael Labonte, Aging in Place Advisor
"Excellent! I did not know what to expect before beginning the course, was very pleased with the clarity of the presentation and especially the presenters well modulated clear delivery of it." – Joyce Moore, former Corporate Administrator/Encore Career
"Overall, very educational and useful information well presented. I'm excited about bringing this information to our community. The presenter was awesome and we look forward to using this knowledge to provide superior service to our clients and make a difference offering our fall prevention and safety assessment services. I loved the closing!! Thank you!" – Rachel Whitney, Non-Profit Executive Director
"As a physical therapist who works with the aged population as a home care therapist and an outpatient therapist, the information in this seminar was excellent and will be used immediately with my clients". – Candy Jansen, Physical Therapist
"Very good and helpful! I really enjoyed the course and feel it will strengthen my skills as a home care occupational therapist. I would recommend this course to other professionals." –Andrea Donchez, Occupational Therapist
"I enjoyed all aspects of the videos, the walk through's and especially the hand outs. It will enhance our home assessments at work along with an opportunity to create a new line of work in our community, as Medicare is shortening skilled rehab stays." – Kelsy Cofield, Occupational Therapist Assistant (COTA)
"¡Excelente! En general me parece que la informacion provista es necesaria para lograr que la vida de nuestros adultos de 55+ tengan mejor calidad de vida." – Jonathan Rodriguez, Occupational Therapist (Puerto Rico) Excellent! In general it seems to me that the information provided is necessary to ensure that the lives of our 55+ adults have a better quality of life.
"This was very helpful and educational! It was well worth the time and money!" – Linda Anderson, Bathroom Remodeling Sales
"The course was very involved and detailed. It will prepare me to help others to make improvements to make their home a safer home." – Jimmy Lisenby, Teacher
"Wonderful course! Each section provided valuable information and things to think about. Quizzes helped to remind of the most important info." – CeCe Zavala, Interior Design Consultant
"Members of my team completed the training and loved it. Very relevant to what we do and where we're heading as a program." – Jason Latona, Chief, Specially Adapted Housing (SAH) US Dept. of Veterans Affairs
"Very comprehensive course. I would recommend this course to other professionals." – Thomas Embry, Drafting/Engineering
"I liked how at the end you did a live walk through of a home and a real assessment. It was a great way to pull it all together! Overall, excellent course in adding to my ability to help educate clients, older adults and their family members on the serious issues of home safety, fall prevention, financial exploitation and personal safety." – Carolyn Northrop, Elder Law Client Care Advocate
"I'm an occupational therapist and I just finished the course and enjoyed it thoroughly! Thank you so much for all the great information." – Joy Schollmeier, OTR/L
"This has not only helped identify and summarize the key safety concerns for older adults in their homes; it has also listed solutions that can be employed." – Todd Reichard, TruBlue HouseCare owner, Architect for over 30 years
"Thank you for the nuggets of information! I would recommend this course to other professionals." – Laura O'Reilly, Case Manager – Nassau County Council on Aging
"This training is really very useful for the development of my activity and can contribute to the survival of a large number of elderly people." –Gilles Goeller, TruBlue HouseCare owner
"This information will be very helpful in our senior care business. Excellent course. Thank you!" – Philip Rice, Amada Senior Care
"It is a very complete course. I would recommend this course to other professionals." – Isabella Galan, Architect – Nuevo León, Mexico
"I found the training to be very informative and well presented." – Jeff Halderman, Senior Resource Specialist – Livewell Seniors
"My mom has taken a few terrible falls and this course has really helped me to understand why and how I can help her stay safer in the future. She's been lucky so far and has recovered pretty well. Hopefully, I can help prevent her from falling in the future. Overall I rated the course excellent!" – Melissa Honick, Realtor
"A well put together course, it will help me in being better able to assist clients who want to stay in their homes as long as possible." – Randy Heuer, Handyman
"The course was informative and videos at end assisted with carryover of the learning." – April Grimaldi, Occupational Therapist
"I thought the course was fantastic, I learned so much. I loved it!" – Jagdish Singh, Age in Place Consultant
"Great course and very informative subject matter." – Steven Griffin, Contractor
"Important information for providing safety resources in the home for persons of all ages, but especially for our senior clients." – Tara Bailey, Geriatric Care Manager
"A well made course in helping to build awareness for future Senior Home Safety Specialists. I would recommend to other professionals!" – Vince Casibang, Community Liaison
"This was very informative and will be put to good use." – Joy Yambao, Physical Therapist
"Very impressed with this program and its contents. I look forward to helping our senior population; as your slogan says, Age Safe® & Live Well! Thank you." – Tonya Bell, RN/Clinical Researcher
"This course is very important for CAPS and SHSS to be able to help our seniors live safely and independently in their homes. When I started the course the information was so pertinent that I did the entire course in one sitting. It was very insightful and Fritzi did a wonderful job of explaining with actionable examples. I am stoked. Thank you, Fritzi and Age Safe® America." – George Davidson, Owner/President at Right at Home of Anderson
"Very informative and I found the walk through portion especially helpful. Overall very good!" – Laura Musick, Aging Life Care Manager
"I am excited to utilize the knowledge I have learned from this course. Living in a retirement community, I am continually exposed to my fellow residents who can benefit from a Home Safety Assessment. Thank you! I'm looking forward to working with Age Safe America in the future." – Michael Ege, SRES, CAPS, SHSS
"I think we are in an environment where this service will be in great demand. My mother recently died in a nursing home six weeks ago. With all of the COVID-19 cases and deaths that have taken place in nursing homes it is now a great time to help keep our aging family members safe at home as long as possible." – Doug Rifenburg
"Great Course. Very Helpful. I would recommend to other professionals."- Leanne O'Donoghue, Dementia Practitioner
"I loved the course and appreciated how well done and thorough it was with the information given. I would recommend it to anyone that works with seniors." – Pamela Lee, Senior Concierge
"This is a great source of information to offer seniors who are deciding to stay in place. I look forward to sharing the knowledge I have learned to help those who want to stay at home safely. As a baby boomer, it has also taught me to be more proactive with my parents, and friends of aging parents, along with clients who are decluttering or downsizing. Thank you!" – Elena Sosa, Business Development for Silver Linings Transitions
"Thank you for putting this complete and very worthwhile presentation together. It was easy to understand and very practical for anyone who would be interested in learning about becoming a certified Senior Home Safety Specialist." – Mike Resler, Retired Teacher
"Excellent! Very informative and well organized course. I liked the ability to complete at my own pace." – Lindsey Thompson, Occupational Therapist
"I have taken many senior related courses, including the CAPS course. This course has far exceeded my expectations. It is thorough, informative, and equips individuals for serving features at a high level. That combined with someone like myself who has a passion and calling to serve seniors, makes it an A+ in my books. I enjoyed the training and it has definitely shown me the vast amount of opportunities that lay ahead." – Desiree King, SRES, CSHP, CAPS, SHSS
"Thanks for the great program." – Sarah Kanter, Gerontologist
"I completed this course in a day. It was an informative course and I really enjoyed it. Thanks!!" – Kristina Hutchinson, Health Care Agency owner
"This course was beyond what I expected. It was extremely detailed and I am so grateful for the opportunity to do something that I have great passion for in helping seniors maintain their independence and age in place. Thank you for everything! I really enjoyed this robust and easy to follow course. Excellent!" – Gena Julian, Sales
"The information given was very clear and easy to follow. The systematic flow was a great way to remember many of the modules given. I was pleased with everything I learned." – Anthony Valdez, Real Estate Developer
"Overall, I rated this course excellent. The visuals you use are fantastic, I am a visual learner and appreciated the detailed videos and pictures." – Rachel Seltzer, MS, OTR/L, CAPS, SHSS
"The Age Safe America Senior Home Safety Specialist course is extremely well organized and presented. There is a large amount of valuable information, but breaking the course into modules by topic makes it easy to take, even with short windows of available time. The instructor's clarity and pace are both excellent, and it is easy to pause or replay to further enable the student to learn at their own pace. The content is validated with independent supporting data, which enhances its value. I highly recommend this course for anyone interested in helping a senior maintain their quality of life by taking the proper steps to live safely in their home." – Gregory McIntosh, Healthcare Industry
"While I came to this course with some knowledge of my own, I was thrilled by how much valuable information I gleaned from every single module in this program. I took copious notes, and frequently paused to rewind a video so that I didn't miss some gem of a detail. I had no idea how much there was to know! The details concerning fall prevention and fire safety alone were worth the cost of the course. I'll never look at a house or property the same way again. For practice, I did assessments of my own house and my parents' house, and was both appalled and elated–appalled by the sheer number of hazards that I'd never noticed and elated that I knew how to correct them. Thank you, Age Safe America! The course actually exceeded my expectations, and I would absolutely recommend it to anyone who works with older adults or with home safety in any capacity." – Margalo Eden, owner Eden Aging Well Consulting
"This course was fabulous and had a ton of great information." – Amanda Navolynski, Aging Life care Manager
"Overall the course is well thought out, detailed, and delivered with the intent to come from a place of contribution to the greater good. I will be better informed and more confident in my work at aginginplace.com for having taken this course, and I will definitely recommend it." – Patrick Roden, RN, PhD, CEO AgingInPlace.com "If you want a BIG OPPORTUNITY, find a BIG PROBLEM, aging in place is both."
"The information provided was very detailed and the examples giving where helpful in real world situations. The comprehensive knowledge provided makes me full more confident in recommendations for areas of improvement when conducting my Senior House Safety Assessment." – Paul Davis, Operations Manager
"Thank you very much, the class was informative and offered many helpful and practical suggestions to incorporate in my OT practice." – Melissa Swiontek, OT/owner Passionate Helathcare
"This is an informative course that should be taken by senior homecare providers and caregivers as a whole." – Sarah Appiah, Home Health Provider
"Awesome program, informative and yet straight to the point. Thank you!" – Tashann Rosario, Client Care Manager
"Excellent! Thank you for providing a thorough home safety training." – Sydni Aguirre, Elders Center Program Manager
"Overall, the course was designed and formatted in a way that was not only educational, but also interesting. Things were explained thoroughly so I not only understood them, but directed in a way which made me understand why they are important. I have a better understanding for aging people and the difficulties that surround them in the home. I also have a deeper respect for those with Alzheimer's and dementia and realize how small changes in the home can help them in their incredibly difficult time. – Matt Reid, Mobility Plus/Specialist
"Great course, clearly explained coursework and visual demonstrations." – Keshia McMillian, Kinesiotherapist with the VA
"I am so grateful for the enlightening information I've received through this wonderful instructive course. I truly wish I had taken this course years ago. This training course has been extremely well put together. I know I will be sharing so many points on safety in the home with my family, and using this education with those I encounter to help assist them in their homes. As an installer/contractor I feel better equipped. Thank you AGE SAFE AMERICA!" – Antonio Cammarata, Maintenance Technician
"This was excellent. It exceeded my expectations. Thank you very much." – Vanesa Vanstone, Consultant
"Excellent course with valuable information. Was recommended by my co-worker. – Pauline Beckett, Program Coordinator – Senior Services for the City of Auburn Hills
"I was looking for personal safety information for senior citizens and found the Age Safe America website, which not only had personal safety information but also home safety certification classes. As a senior citizen I wanted to learn about this not only for myself but also to serve the senior community. I totally enjoyed this course and I plan on sharing what I learned with the senior community." – Linda Yalen, Home & Personal Safety Advisor and Certified Health Coach
"I have worked in home care for several years. This course provided insight to things I do not normally check for during my safety assessment." – Susan Brown, Kinesiotherapist VA.gov
This was excellent! Very well organized and facilitated. I am confident with this knowledge integrating this into my service offerings. Thank you!!" – Kathryn ONeel Webster, Senior Safety and Movement Specialist
"The content of this certification exceeded my expectations. I am an aging in place specialist and have a lot of knowledge about home safety. However, I learned several new things that I will use to better serve my clients. My coworker was informed of this course and shared it with the rest of the staff. Thank you." – Megan Johnson, Case Manager Masons Care/Masonic Charities
Safety. Security. Longevity.
Check in for more information