Safety. Security. Longevity.
Home Safety Advisors Protecting the 70+ Million Older Americans Choosing to Age-in-Place.
This Targeted Training and Coaching Program has been our premier training since 2015. Our program allows you to confidently engage this unprecedented demographic and become a true resource in your community.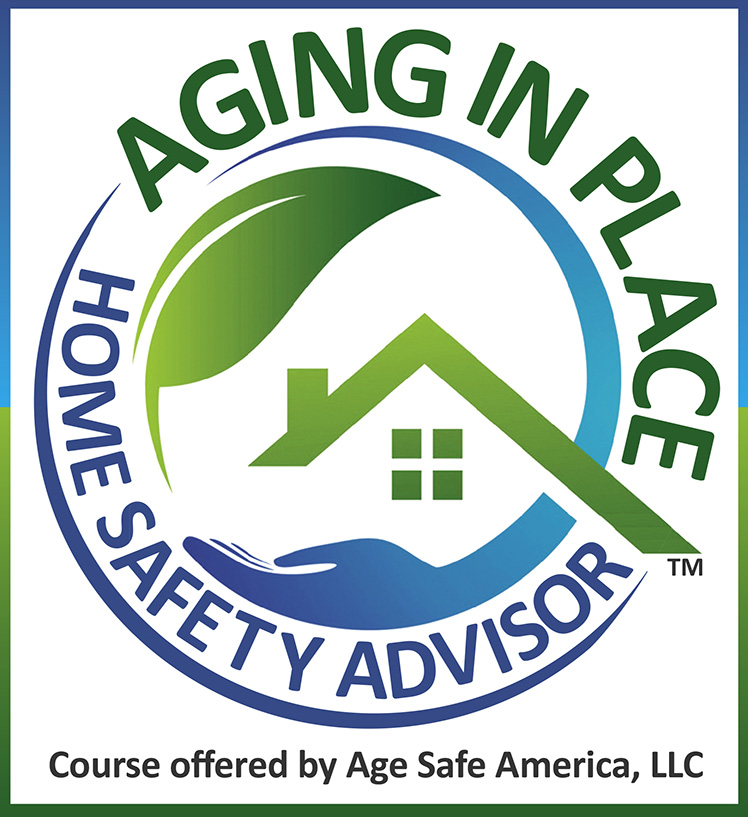 One of a Kind Opportunity.
Age Safe® America is a national membership, training, advocacy and services organization led by nationally recognized experts in fall prevention, home safety, aging-in-place, universal design, home modifications, environmental assessment, and marketing to seniors and aging boomers. We provide training, consulting, certifications, product reviews, tools, resources and support to businesses and organizations providing products and services to seniors and their adult children. Our training program can assist you in engaging this underserved and untapped market. This is a unique opportunity to leverage the massive growth of the Senior Market and the record breaking potential of the Aging-in-Place Home Modifications industry.
You Can Make a Real Difference.
Americans are living longer and seeking to lead healthier more active lives. Nearly 90% of older adults strongly desire to enjoy the comfort, safety and independence of their own home for as long as possible. Research has shown adults ages 50 and older now represent 35% of the nation's population and account for more than 50% of consumer spending and 83% of household wealth. Effectively targeting this demographic and developing the skills to serve them will greatly assist your success. Providing education, comprehensive non-medical aging in place home safety assessments, recommendations and solutions for fall prevention, home modifications and crime prevention, offers confidence and peace of mind for seniors and family members.
Necessary, Simple and Affordable.
Age Safe® America offers a unique training and coaching program to individuals, senior services professionals and non-profits looking for an additional revenue stream for an existing business. Many people are now interested in finding opportunity in the senior market, attracted by the aging of America. Our program allows you to confidently engage this unprecedented demographic and to become a true resource in your community.
Age Safe® America has trained professionals throughout North America, Europe, Asia and the Middle East. We have positioned ourselves as a training and consulting leader in the Aging in Place space with our Senior Home Safety Specialist™ certification. We have trained professionals across many industries including: Occupational Therapists, Physical Therapists, Care Managers, Nurses, Remodelers, Contractors, Architects, Designers, Home Care Providers, Social Workers, First Responders, Accessibility Experts, Realtors, Senior Living Advisors, Entrepreneurs, Executives, Assisted Living Communities, Home Inspectors, Handyman Services, Non-Profit and Fortune 100 Companies.
Prerequisites: SHSS Certification and Membership
Safety. Security. Longevity.
Don't Miss this Unprecedented Opportunity.
This training is designed for those looking to build or scale a business around Home Safety Assessments & Aging in Place Home Modification.
Watch this 7-minute video.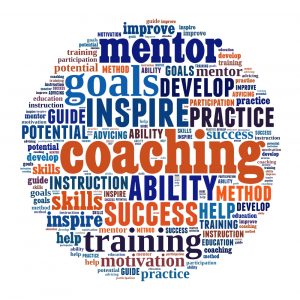 If this sounds like something you would like to pursue further, please fill out the form at the bottom of the page and include all the information requested. Someone will reach out to you promptly.
Thank you!
The full Aging in Place Home Safety Advisor training, coaching & consulting program has been our premier training since 2015. This comprehensive package is designed for those looking to build and/or scale a business around Home Safety Assessments and Aging in Place Home Modifications. Typically these individuals have already decided this is their career path and/or they are adding an additional revenue stream to an existing aging services business.
This program offers the real life Marketing and Networking strategies, and client messaging many are looking for to effectively engage this growing market. The package includes targeted coaching sessions delivered via webinar plus 1-on-1 coaching via teleconference. Also included are miscellaneous forms, agreements, waivers, presentation tools, marketing materials, a 55-page guide, plus access to exciting and lucrative technology products your clients want and need!
The strategies and tools to hit the ground running and the confidence to know where you're going! 
Safety. Security. Longevity.
The leaf represents thriving in later life and remaining vital to a community.
The roof represents home, family, memories, protection, safety and security.
The hand represents support, and connects home safety to successful aging.
The circle represents unity, wholeness, connection, protection and inclusion.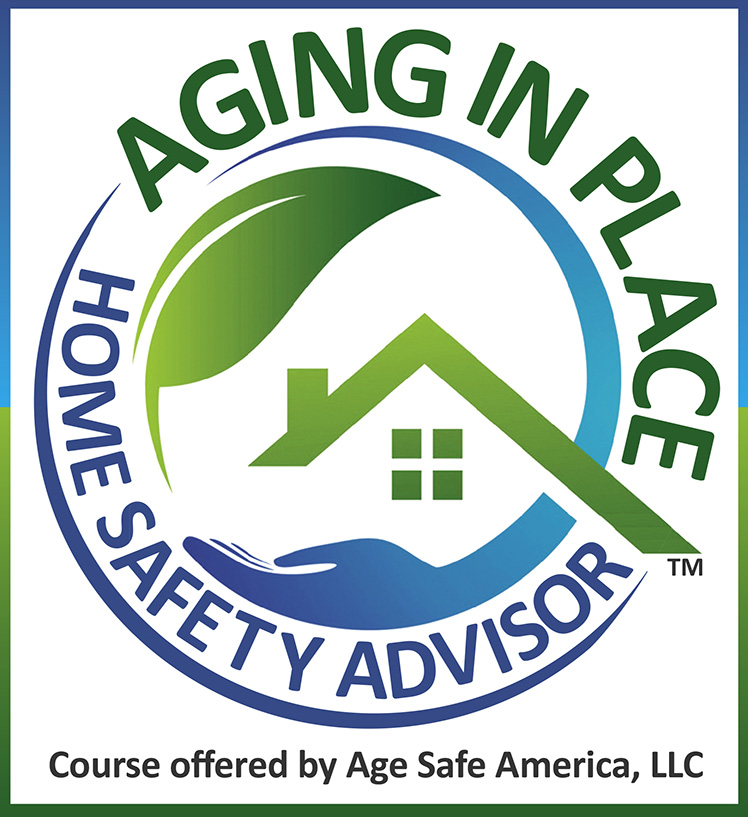 What People Are Saying About our Training & Coaching
"My training with Age Safe America, thus far, has been excellent. The trainers are extremely knowledgeable and the course informative, thorough, and valuable, especially to one with only a medical background! When life challenges occurred, the Team was very understanding and accommodating. I appreciate the organization's commitment and advocacy to keep seniors safe and look forward to being part of the solution!"- Lena L., OTR/L
"I enjoy this course so much! I have a desire to help the senior population and there is no course like this. I believe it fills a very important niche and I'm looking forward to going out into my community and making a difference! Thank you!" – Linda Y., Home & Personal Safety Advisor and Certified Health Coach
"Our experience with Age Safe America had been very positive. The entire team has been invaluable in getting our business launched. They are always very responsive to our questions and bring so much experience to the table. As a Realtor being part of the aging-in-place solution is a great opportunity to be a positive force in our community. We're glad we chose to participate with the Age Safe America training and coaching program." – Tom G.
"I just wanted to let you know that I have really enjoyed our coaching sessions. You are all great teachers and just amazing. You have provided me valuable information and support. Even with my Home Inspector training you literally gave me a firehouse of information and tools to add to my arsenal. You guys are the real deal. I am very excited about the opportunities in this market and I feel with your continued support and ongoing coaching I will be very successful." – Kevin K.

"Excellent! I am excited to get started with these services as a perfect addition to our HME business. The course has given me confidence to begin immediately. I am anxious, not only to start, but to build a strong partnership with Age Safe America. Thank you for your guidance." – Rhonda R.
"The Age Safe America training and coaching course was very informative and covered areas that one would not think of for this type of business. The presenters and coaches knowledge was so valuable. As a Paramedic I'd much rather spend my time and energy on preventing falls than on responding to an injury that could have been avoided altogether." – Pete H., Paramedic, EMT, SHSS

"Hello, I found the course to have everything needed to put my business together. I look forward to entering the field and ongoing coaching with Age Safe America. Excellent program! I have already recommended the program to other Physical Therapists with confidence." – Katarina S., PT, SHSS

"The coaching was very thorough and provided more than I anticipated." – Sue W.
"Want to thank you for the opportunity to be part of a great organization. I really like what you have created and I am glad to be a part of the team. Your advocacy in regard to home safety, accessibility and modifications along with developing relationships with the national corporations, insurance companies and government agencies is applauded. As an Occupational Therapist and CAPS, I believe Age Safe America will be at the forefront of this emerging and much needed niche." – Alan P., OT, CAPS, SHSS

"Overall the course was excellent! The content was very through and covered many needed areas. I'm excited to get started with my new future!!" – Brad M.
"We owned and operated a 100 bed assisted living facility in Arizona, most of our clients came to us due to a fall, and usually heartbroken that they had to leave their homes. Most of them believed that they would one day return home, there were only a few. We feel so excited to help our community to stay home safely where they want to be. Such a wonderful course, and it was easy to understand, and very comprehensive. I wish I had found Age Safe America years ago". – Caroline W.
"I have been a contractor for 30 years, and in the last few years been doing more and more home modifications for aging seniors. Over the last year I've been investigating different ways to position myself in this growing market and be of service to folks here in my area. You guys have done the homework for anyone who wants to engage this market and provide a much needed service. Your marketing strategies and networking ideas are awesome and will really help give me a jump in the marketplace." – Darryl R., Contractor, SHSS

"As a Certified-Aging-In-Place Specialist (CAPS) I have been in over 400 homes providing different levels of safety and accessibility assessments for seniors and the disabled. Age Safe America has put together an impressive comprehensive training program. The "how to" of senior home safety and when combined with the marketing and community outreach coaching will help position the advisor as a resource in the marketplace and secure new clients." – Eddie M., CAPS

"The course is comprehensive in all areas of study. Anyone who desires to work with seniors or others with mobility issues should have little trouble getting a business going and serving their community. For students that have not experienced the world of marketing, the level of detail reviewed must provide some level of comfort that all it takes is the will to work through the steps for the many rewards. Thank you!" – Jim B., Handyman

"Being in the medical field and beginning a business from scratch we don't have the business component and this was very informative on that aspect. I really struggle with what to say and having the verbiage or an example is so helpful. Thank you for the time and effort put into creating these coaching sessions." – April G., OT, CAPS, SHSS

"I think we are in an environment where this service will be in great demand. My mother recently died in a nursing home six weeks ago. With all of the COVID-19 cases and deaths that have taken place in nursing homes it is now a great time to help keep our aging family members safe at home as long as possible." – Doug R.
"I'm excited to utilize the knowledge I have learned from this course. I truly believe that ASA has provided me with the knowledge and tools I need to be successful. I'm excited as well as motivated. THANK YOU!!!" – Mike E., SRES, CAPS, SHSS
"They went above and beyond to make sure that we can be successful. Appreciate all their advice and looking forward to putting it into action!" – Pamela L., Senior Concierge and Home Safety Advisor
"I have taken many senior related courses, including the CAPS course. This course has far exceeded my expectations. It is thorough, informative, and equips individuals for serving features at a high level. That combined with someone like myself who has a passion and calling to serve seniors, makes it an A+ in my books. I enjoyed the training and it has definitely shown me the vast amount of opportunities that lay ahead." – Desiree K., SRES, CSHP, CAPS, SHSS
Safety. Security. Longevity.
Check in for more information