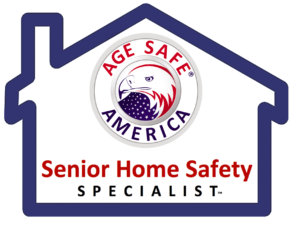 We are pleased to announce the much anticipated release of the Senior Home Safety Specialist™ online course!
Our goal is to provide a holistic curriculum and a fresh look at many issues affecting seniors endeavoring to "age safe at home".
The Senior Home Safety Specialist™ course empowers participants with actionable ways to better help educate clients, older adults and their family members on the serious issues of home safety, fall prevention, financial exploitation and personal safety. This comprehensive 6-hour self-paced audio/video course offers the only certificate of its kind to individuals within the senior services industry. This important training consists of a 10-module self-study educational program with a quiz after each section that participants must pass in order to continue. Upon successfully completing the entire course, you will receive an attractive Certificate along with a digital copy of the Senior Home Safety Specialist™ emblem to use in your own marketing efforts.
What is Covered in This Online Course: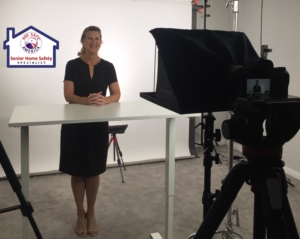 – Fall Prevention Myths and Solutions
– Fire Safety Precautions and Solutions
– Aging-in Place Home Modifications
– Mobility and Accessibility Issues
– Home and Senior Safety Technologies
– Considerations for Alzheimer's/Dementia
– Crime Prevention and Personal Safety
– Senior Exploitation, Identity Theft and Scams
– Communication with Older Adults and Family
– Performing a Complete Home Safety Assessment
If you have a group of 4 or more participants please use the form to the right to request a 25% DISCOUNT!
Here's what people are saying about the course:
"The Age Safe America course is extremely well organized and informative. The instructors are knowledgeable and provide clear examples for the student to achieve success. There was not one glitch with the software which is amazing considering that amount of audio and video files attached to the training course. The idea of the point system and badges is brilliant because it provides the user with visual goals and a sense of accomplishment. Well Done!".
Christopher MacLellan, "The Bowtie Guy" Caregiver Advocate, Founder of the Whole Care Network
"An amazing collection of information, well-presented. Good reminders of things we knew or should have known and a whole lot more new info – especially the Alzheimer's segments. Great job! I like the way the segments are different lengths and formats also. Obviously a lot of time and effort went into the creation and production of this course".
Steve Hoffacker, CAPS, CEAC, SHSS NAHB Master Instructor | CAPS Instructor of the Year 2015
Age Safe America is a national membership, training and advocacy organization dedicated to meet the growing need for Home Safety Assessments and Aging-in-Place Home Modifications. The company is directed by nationally recognized experts in fall prevention, home safety, aging-in-place, universal design, home modifications, environmental assessment, and marketing to seniors and aging boomers. We provide training, consulting, certifications, product reviews, tools, resources and support to businesses and organizations providing products and services to seniors and their adult children.
Age Safe America is committed to home safety and accessibility to help older adults improve their odds for having an independent and productive life. Age Safe America offers the Senior Home Safety Specialist™ course to individuals currently serving seniors, that includes education for home safety, fall prevention, fire safety, home modifications and crime prevention. The goal of Age Safe America is to help older adults and their families enjoy the comfort, freedom and independence to "age safe at home."